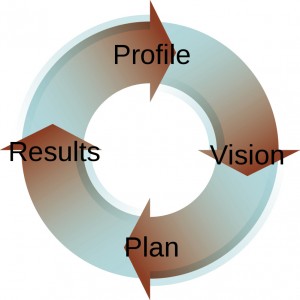 I work in a field that on occasion puts me in schools to evaluate them as part of ongoing accreditation. The process we use is applicable in many places, not just in the school setting. As a matter of fact, I would say that if you visit any successful industry, hospital, or even family environment, you will find this process in place. The terminology may not be the same, but the idea will be present. Any successful organization engages in these four steps on a continual basis. That being true, it would behoove us to look at our church setting, and even our personal lives, using these four ideas. The four ideas, along with a description or definition, are:
Profile – This is a snap shot of where we are today, or any point in time.
Vision – This is a picture of where we want to be in the future; it is our goal.
Plan – This is simply the bridge that will take us from Profile to Vision.
Results – This is a continual process of evaluation.
And note that this whole process is ongoing. We are constantly examining where we are and where we are headed. The wise man, Solomon, proclaimed in Ecclesiastes 1:9 that "there is nothing new under the sun." Such is certainly the case here. We find strong Biblical teaching for each of the four ideas.
Profile – Psa 119:59; Hag 1:7; 1 Cor 11:28a; 2 Cor 13:5a
Vision – Gen 12:5; Phil 4:13-14